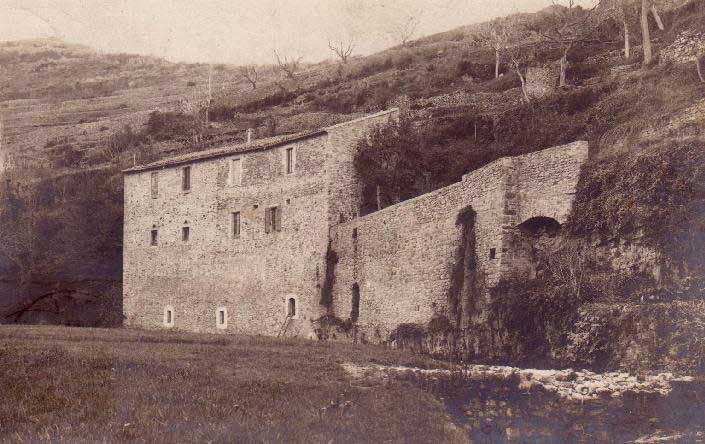 In the professional offices of Joseph Fulcran Clainchas, a royal solicitor from Lodève, on 9th of June 1814, Pierre GAUFFRE, who lived in the hamlet " Bernagues " purchased from Pierre MAUREL, a Lunas farmer, a plot of land, on which he planned to run a cheese-making business.
This plot of land, as well as an appropriate access track for loaded animals and mules, was situated about 100 metres up on the left bank from the Nize bridge in Lunas. A particular mention was made of 'large natural hollow or cave in the rock' that was included in the plot.
The sale was made in exchange for a sum of 200 Francs.
Pierre GAUFFRE, 33 years old, was employed as a tax collector for the parish of Lunas and was probably most interested in the cave, this 'natural hollow in the rock.' He recognised that such a cave offered the pre-requisites for maturing cheese in the same was as the caves of the Combalou hills that had been producing the famous Roquefort cheeses for centuries. He had recognized the ideal conditions (temperature and humidity), as well as the all important cold and damp draughts needed for the particular penicillin to grow and provide the cheese with its distinctive character.
Today this cave, destined to be Pierre GAUFFRE'S little business, can still be visited as it was measuring: 17.80 metres long, 3.50 metres wide and with a gothic shaped vaulted ceiling 5 metres high.
As a result, it was a quite small cave, where the maturation of a maximum 80 to 100 quintal (a measure of cheese equal to 115 lb) of cheese could be produced. This level of production continued until 1867, when Pierre GAUFFRE bought additional adjoining plots along the banks of the Nize from Pierre MAUREL with the intention of expansion.
Unfortunately Pierre GAUFFRE went blind and handed over the running of the business to his nephew Alcide Maximilien GAUFFRE, who became the proprietor in 1880 following the death of his cousin Marie Gabrielle Stina ROUIS, born GAUFFRE from Lodève. She willed everything to him on 12th of July 1879.
Alcide Maximilien GAUFFRE and later his sons, continued with the production of a sheep cheese in the Roquefort style. They extended their establishment little by little until they reached an annual production of a thousand quintals of cheese. Nevertheless, they still kept the original cave that remained the heart of their business.
The production of the 'GAUFFRE' brothers' sheeps' cheese carried on until 1911.
The excellent quality of the Lunas cheese came to the attention of the Roquefort cheese-makers who subsequently acquired the Frères Gauffre brand that still exists today, but is but exclusively produced in Roquefort. This is in accordance with the regulations introduced on 26th July 1925 stipulating that " Roquefort " cheese only can be cheese "coming 100% from ewes' milk, produced and matured according to the local tradition in the natural caves of the Combalou hills".